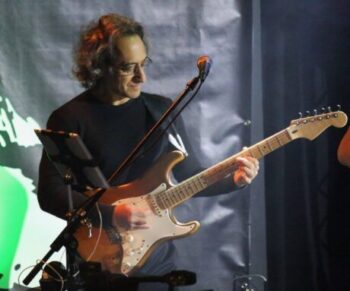 Robin Gottfried – singer songwriter, guitar
Robin Gottfried grew up in Washington Heights, New York City where he graduated from the High School of Music & Art in 1970.
He immediately started his professional career as a singer/songwriter performing in bands that played all over the Northeast. Robin now performs in the Burlington, VT area where he has lived since 1978. He spends every available hour in his digital recording studio.
Robin's discography:
Handwritten – 1994
Robin Gottfried & Friends – 2000
Carry You – 2003
Pelican Crash Dive – 2005
Unfinished Portrait – 2007
Pages (with Susan Hosmer) – 2009
images and rhymes – 2011
Caspian Sky – 2014
Other Side of the Rain – 2017
Our Trip Up In Time – 2019
Dreams and Extremes – 2022
---
Ian Koeller – drums
Ian Koeller is a professional session and live musician from New York and currently living in Burlington Vermont.
At age 4 Ian got his first set of drums and started working out grooves and fills he heard on the radio. By age 11 Ian studied with world renowned educator Jeff Salisbury.
Ian started playing professionally age 16 joining & playing with various bands in the Burlington, Vermont area including Microwave Mangos, Jenni Johnson, Gang of Thieves, Theravada, Jimmy T. Thurston, Keeghan Nolan, Joe McGinness, David Pollack, A House On Fire, Bob Levinson, The Phil Abair Band, Rick & the Ramblers, The Contois School of Music Band & now with Robin Gottfried & Friends.
Ian is an in demand recording session player working with the above artists, as well as recording sessions with New York City artists.
---
Brad Sourdiffe – bass
One of Brad's earliest memories is of his father and grandfather playing music together, instilling in him a strong desire to play. He started playing violin at seven, playing classical violin for 10 years. After hearing bands like The Beatles, Led Zeppelin and The Who, Vivaldi and Hayden just didn't seem that exciting anymore. He was always drawn to bass and within a couple of months after getting a bass he was playing high school dances with a rock band. Since then he has played jazz, rock, blues and funk in numerous bands.
Currently, besides playing with Robin Gottfried he's playing with blues bands and 60's tribute band Mellow Yellow. Since 2013 Mellow Yellow has been playing on annual cruises with The Moody Blues, The Zombies, Roger Daltry and many other bands from the 60's and 70's that were some of Brad's biggest musical influences.
---